Office Holiday Party Outfit Do's and Don'ts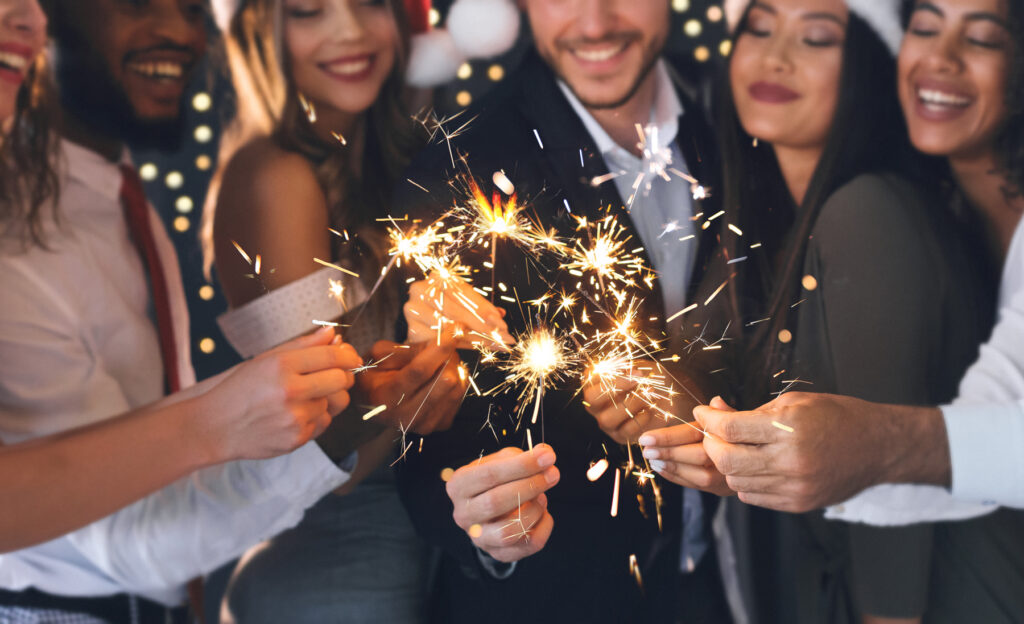 The office holiday party is coming up, and you're about to let loose (but not too loose) with your coworkers after a long, hard year of adulting. Maybe the invitation didn't specify a dress code, but believe us, a dress code exists. If you're struggling to figure out what to wear to your office holiday party, just know you're not alone. Here are some basic do's and don'ts to remember as you plan your outfit:
Avoid wearing jeans
While a pair of dark, tailored jeans can look sophisticated in certain situations, at your office holiday party this might be toeing the line. However, if you're confident the event is going to lean more on the casual side, go ahead and put on your best pair. Just make sure they're a dark wash and free of any holes (we hope we're preaching to the choir on this one, but you never know).
Ties are optional
Guys, it's okay if you choose not to wear a tie to the office holiday party. You can opt for a layered look with a collared shirt and sweater vest combo, or even a sport jacket with a pocket square. But if ties or bowties are your thing, go for it—just be sure your tie looks dressier than what you usually wear to the office since you're there to party, not to work.
Check your hemline
This one's for the ladies. While you might be crushing on that guy from Accounting, the office party is not the place to show off those stems. You don't have to dress like your grandmother, but try to keep your hemline from creeping too far above the knee. If your skirt or dress is barely passing the fingertip test, but you're confident it's not too risqué, throw on a pair of opaque tights to bring the look into office-appropriate territory. If your derriere isn't covered when you sit down, you need to seriously rethink your choices.
Iron & starch your clothes
You might be tempted to throw some wrinkled clothing items in the dryer instead of ironing (it's all right, we're not judging. Well, maybe a little); however, at the holiday party you'll want to look like you tried. So dust off that iron and use Faultless Premium (best on dark colors for no flakes) to press those pleats and starch that collar. It's time to adult.
Cover up
When you're a lady, there's a lot of room for error when it comes to selecting the right outfit for the office party. While you might have something amazing stashed away from last year's New Year's Eve party, keep in mind that showing too much skin to your coworkers and supervisors can send the wrong message. A good rule of thumb is to avoid sheer fabrics and anything that shows cleavage. Sleeveless tops are okay, but should be paired with a longer skirt or pants. Similarly, a shorter hemline should be paired with more coverage up top in the form of long sleeves, a cardigan or a blazer.
So as not to pick on the ladies, we're also going to point out that guys need to avoid deep v-necks and unbuttoning dress shirts to look like a pop-star. Whether or not you shave and spray tan your chest, this look is going to be downright awkward at the company party.
Add some sparkle
We don't necessarily mean this in the literal sense, but it's cool if you want to add some pizazz to your outfit with glittery heels, sparkly jewelry or a metallic pocket square. The point is to not adhere so strictly to the office dress code that you miss the chance to feel special, because after all, this is your night to celebrate a year of hard work with your comrades. Metallic, velvet, bows and lace are all seasonally appropriate options to consider in your holiday look.
Thinking of rocking a bow tie at the office party? Check out our tutorial on how to tie a bow tie.
BACK TO CATEGORIES